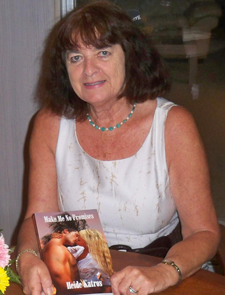 Heide Katros was born and raised in Germany near the French border. She traveled extensively throughout Europe and met her pharmacist husband while on vacation to the Isle of Rhodos, Greece. Heide and her husband Mitch are the parents of two grown sons and grandparents to Alex and Anna. They live in Winter Haven, Florida. Heide is an avid tennis player, while her husband enjoys golf.

Heide's very first book, award winning Bewitching Angel was published in 2002 by New Concepts Publishing in Lake Park, GA.

All of Heide's published books are available through Amazon Kindle, Barnes & Noble's Nook and are also available in not only the U.S.A, but also in Australia, Europe, Canada and the United Kingdom. Or you can simply download them from this website. All e-books are formatted so you can read them on your computer, your laptop, your iPad, your iPhone or any e-reader. Some books are also available in print. Just check it out under Books.

Heide would appreciate hearing from her readers. heidekatrosbooks@aol.com. Nothing makes an author's day more perfect than to have a reader write and tell her that they loved her books.

Follow Heide on Twitter!


BROKEN TRUST

BROKEN TRUST ~ Now available!

Buy now for Amazon Kindle
Buy now for Barnes & Noble NOOK

Paolo Suarez is finishing his hospital residency in three months and he is counting the days. Dedicated to the welfare of his patients, he is shocked when he is told that someone filed a malpractice complaint against him. Someone? Who has it in for him and why? And why the secrecy about the accuser's identity?
During this trying time Paolo bumps into freelance journalist Kirsten Cooper, who is on her way up to the children's ward in pursuit of a story. There is an instant connection between the two. But neither Paolo or Kirsten are strangers to prejudice and distrust. And because both have been subjected to suspicion and broken promises they face tough hurdles to overcome in their budding relationship.
UNFORGIVEN ~ Now available!

Buy now for Amazon Kindle
Buy now for Barnes & Noble NOOK

Chase Phillips, CEO and owner of Phillips Innovations, cannot get past the guilt of losing his wife in a deadly car crash. His company has become his sole interest in life. He is not happy when he is forced to replace a trusted design engineer, and even less so, when the applicant for the job is an attractive woman.

K.C. Grainger purposely uses her initials rather than her given name Kyra. She knows it is an uphill fight to gain recognition in a male dominated work environment, but her career is now the main focus after her recent breakup with the man she'd hoped to marry.


UNFORGIVEN
When Chase and Kyra meet, there is a moment in time when the world seems to stop turning. Neither dares to acknowledge that unique experience, and a shake-up within the company threatens to sever that tentative link before it has a chance to come together.

SECOND CHANCES

SECOND CHANCES ~ Now available!

Buy now for Amazon Kindle
Buy now for Barnes & Noble NOOK

Christmas is only a couple of weeks away, but the prospect of having to face yet another holiday alone is just too much for Sylvia Hewlitt. Why did Gordon have to die on Christmas Eve? She misses him terribly, but nothing can bring him back. She decides that it is time to start life over, somewhere totally different from the sun and palm trees of Florida. Determined, she makes reservations at a lodge at Sugar Mountain in North Carolina, envisioning days of solitude and skiing down snowy slopes.
In order to escape the usual family squabbles over where he should spend the Christmas holidays Detective Stephan Breslow opts for a snow skiing trip to North Carolina. He intends to do as he pleases, since no one knows him there -- and then he spies Sylvia Hewlitt across the street. She'd shown him the door when they first met, but she has haunted his dreams ever since. He knows she is way out of his league and Stephan does not believe in second chances.