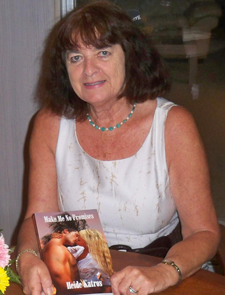 Heide Katros was born and raised in Germany near the French border. She traveled extensively throughout Europe and met her pharmacist husband while on vacation to the Isle of Rhodos, Greece. Heide and her husband Mitch are the parents of two grown sons and grandparents to Alex and Anna. They live with their dog Bibi in Winter Haven, Florida. Heide is an avid tennis player, while her husband enjoys golf.

Heide's very first book, award winning Bewitching Angel was published in 2002 by New Concepts Publishing in Lake Park, GA.

Heide is currently writing her 23rd novel and is working on getting some of her older novels formatted for e-books. She also just finished a short story called Snow Roses for an anthology that will be published in November 2012 by the DCL and coordinated by her good friend and fellow author Kate Hofman.

All of Heide's published books are available through Amazon Kindle, Barnes & Noble's Nook and are also available in not only the U.S.A, but also in Australia, Europe, Canada and the United Kingdom. Or you can simply download them from this website. All e-books are formatted so you can read them on your computer, your laptop, your iPad, your iPhone or any e-reader. Some books are also available in print. Just check it out under Books.

Heide would appreciate hearing from her readers. heidekatrosbooks@aol.com. Nothing makes an author's day more perfect than to have a reader write and tell her that they loved her books.

Follow Heide on Twitter!


SURRENDER TEMPTATION

SURRENDER TO TEMPTATION ~ Now available!

Buy now for Amazon Kindle
Buy now for Barnes & Noble NOOK

Sweet Redemption is a sequel to Make Me No Promises, also available in Nook.
Christopher Monfort, the current Earl of Leicester, is awarded the stronghold of Bognor Bluff for services rendered on the battlefield. However, the peasants he inherits along with the domain defy him at every turn. Angered, when they torch a valuable piece of land, he decrees that the next person who causes trouble will be publicly whipped to set an example for the rest.
Jaimie Belhaven, daughter of the ambassador to France on behalf of his Majesty King George II, grows up a near hoyden thanks to her indulgent father. In desperation Sir Francis sends her to an aunt at the coast so she will learn proper decorum. Yet impetuous as ever, Jaimie dresses in rough garb one afternoon and sneaks away from the aunt's strict supervision and runs straight into the arms of the angry earl. She cannot risk revealing her true identity, too much is at stake. Instead she chooses the only way out, even though it might well be her death.
SWEET REDEMPTION ~ Now available!

The sequel to Make Me No Promises!

Buy now for Amazon Kindle
Buy now for Barnes & Noble NOOK

Sweet Redemption is a sequel to Make Me No Promises, also available in Nook.
Jeremy C. Stokes, aka Joel C. Smith, returns to Orlando, Florida, knowing he is wanted by the FBI on a charge of murder. He has no way to prove that he killed in self defense. Hoping he can find redemption, if only in his own eyes, he sets up a private investigation office to help those in need. He has it all sorted out in his mind -- until Melanie Roberts enters his life -- temptation on platform heels. When she tells him that her roommate has disappeared from the nightclub where they both work in order to pay their college tuitions, he accepts the case, despite his better judgment telling him to run in the opposite direction.


SWEET REDEMPTION
Melanie has no use for any man, much less for a drop dead gorgeous one, but Jeremy's fees fit her limited budget. Neither realizes that they have just become embroiled in a white sex slave cartel that has its eyes on Melanie.

MAKE ME NO PROMISES

MAKE ME NO PROMISES ~ Now available!

Buy now for Amazon Kindle
Buy now for Barnes & Noble NOOK

Being left at the altar is only the beginning of Chelsea Hubert's troubles. Smart and independent she feels she can overcome any problem -- unaware that she is already caught in a web of deception -- until she comes face to face with a man who wants her dead.

When Pierce Delaney saves Chelsea from being stranded in the Bahamas, he has no intention to take their acquaintance to another level, but cannot get her out of his mind. He contrives another meeting, only to find himself embroiled in Chelsea's fight for her life.
You might also like these titles by Heide...